Apple vs. Android vs. Windows
Author: Unique SIMs
Date: Tuesday 19th June 2012
Nowadays these are the three main contenders when looking for a new mobile phone; with just Blackberry a close forth. All three have their pros and cons and will suit different people. Each operating system has a sense of competition to the other, but how are they coping with Apple's huge market share?
Apple
Apple always likes to keep on top of their game; not only with their phones but with their computers and tablets too. The software they use on their mobile devices is called IOS, with IOS 5 being their current version of software available and boasts a number of features which put them ahead of their competitors. With the release of IOS 6 planned in autumn this year they are planning on adding over 200 new features, including:
Siri enhancements
Facebook integration
Facetime enhancements
Safari enhancements
Better security
New mapping interface
Apple have a huge fan base and this software update will be much anticipated my many; let's hope the new features live up to expectations.
Android
Android have definitely upped their game with Android 4.0 (also called Ice Cream Sandwich). The new software powers all phones, tablets and more, in the same way IOS does for Apple. Android are using the slogan Simple. Beautiful . Useful for 4.0 which is what they believe the public are looking for. Features android are boasting about are:
Home screen folders and favourites tray
Resizable widgets
New lock screen actions
Quick responses for incoming calls
Swipe to dismiss notifications, tasks, and browser tabs
Improved text input and spell-checking
Powerful voice input engine
Control over network data
Face Unlock
Android are trying hard to keep up with Apple and it is beginning to show; however some of the features Apple could learn a lesson from.
Windows Phone
Windows phones have been around for some time, however only recently have they stepped up their game. Predecessors were considered not user-friendly with tiny icons and slow reaction times. With the new phones and software they have really thought about what the user wants, and it looks really impressive to say the least. The new tiles function on the home screen practically pops out the screen when opening applications, plus looks very aesthetically pleasing. Windows phones key points include:
People Hub
Groups
Threads
Email featuring Outlook Mobile
Pictures Hub + Camera
The applications you want
Start Screen + Live Tiles
Marketplace Hub
Games Hub featuring Xbox LIVE
Music + Videos Hub
Office Hub
Internet Explorer
One button to Bing
PC World have done a great job of comparing the three different software's in this easy to read check list, see which one takes your pick.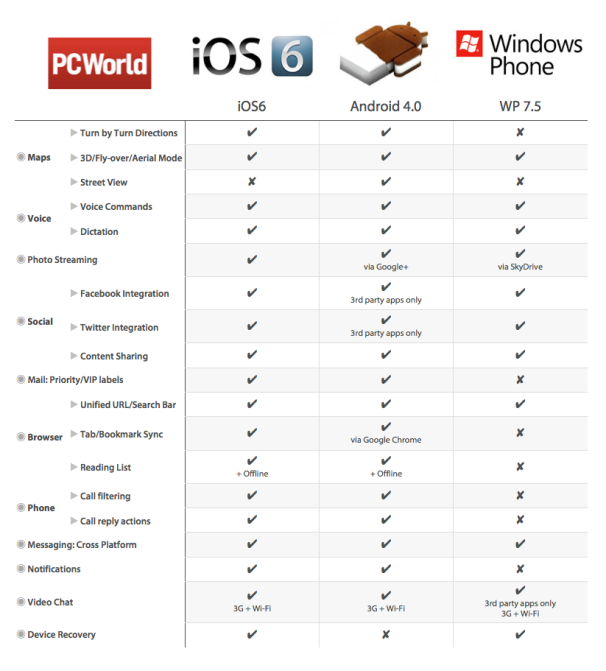 Whichever platform you choose, add a touch of personalization with a unique mobile number from Unique Sims. Unique SIMs provides mobile phone numbers available on all UK mobile phone networks whether you are on a 'pay monthly' contract or as a 'Pay As You Go' sim card. We have a huge selection to choose from, at competitive prices.